Over 13,000 clinicians across Australia have completed the
Safer Baby Bundle
or
IMPROVE
eLearning modules.
Join the team that's reducing stillbirth in Australia.
Register
For maternity healthcare professionals on this site
eLearning
Clinical practice guides
Workshops and webinars
Safer Baby Bundle Update 2023
eLearning
Safer Baby Bundle eLearning module
The Safer Baby Bundle module provides evidence based information for maternity health care providers on the 5 elements of the bundle: Smoking Cessation, Fetal Growth Restriction (FGR), Decreased Fetal Movements (DFM), Side Sleeping and Timing of Birth.
Start Module
IMPROVE eLearning module
IMPROVE - This is a training package of six courses and is designed to support maternity healthcare professionals in responding to women who have experienced stillbirth, and gain crucial learnings. Each course takes approximately 20 minutes to complete and provides essential training for obstetricians, midwives, nurses, general practitioners and antenatal staff.
Start Module
Resources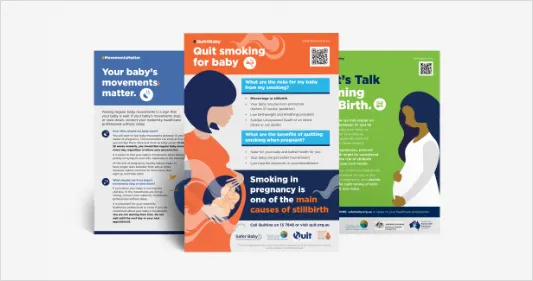 The Stillbirth CRE has developed a suite of parent resources, including translated and culturally adapted resources, and number of resources for clinicians to guide clinical care based on best practice evidence. These are available to download at no cost.
View and Download
Workshops and webinars
Fetal Growth Restriction (FGR) Workshop
The FGR workshop is an education program for clinicians to improve antenatal detection and management of FGR. The workshop takes around 2.5hrs and is run via an online platform. Dates coming soon, contact StillbirthCRE@mater.uq.edu.au for more information.
Coming Soon
Timing of Birth
The Stillbirth CRE & the Australian Preterm Birth Prevention Alliance have co-designed a Timing of Birth education program for clinicians, with key focus areas including talking about stillbirth, shared decision-making and optimum timing of birth.
Coming Soon
Thanks to our partners
Mater Research Institute, University of Queensland, is the coordinating centre of the Stillbirth CRE.
The Safer Baby Bundle has been developed by the NHMRC Centre of Research Excellence in Stillbirth (Stillbirth CRE) in collaboration with and support from: Acknowledgement of Country
The Centre of Research Excellence in Stillbirth acknowledge the Traditional Owners of this land and their ongoing custodianship. We pay our respects to their Ancestors and their descendants, who continue cultural and spiritual connections to Country.
We acknowledge the diversity across Aboriginal and Torres Strait Islander cultures, language and practices and that it is vital that all health care services respectfully manage protocol and provide a culturally positive health care experience for Aboriginal and Torres Strait Islander people.